MAR Cal

The MAR Cal is a scientific all-round calculator for the PC.

With MasterAllRound everybody can easily use the PC as a calculator: people who are interested in mathematics, school and university students, scientists and engineers. Input is in plain text, follows very simple rules and is kept automatically.
Plain text input
MasterAllRound interprets your input. It doesn't matter if you solve a simple addition or if you want to carry out a complicated task.


The principle approach with the universal calculator is:
Enter the formula in the formula input field. Finalise the input with the return key or by clicking on the "Run!" button


See the result in the result field


MasterAllRound automatically saves input in the formula storage field
MasterAllRound saves all entered functions and constants. With a mouse-click, you can retrieve them in the input field. In addition, you can add comments to all functions and constants.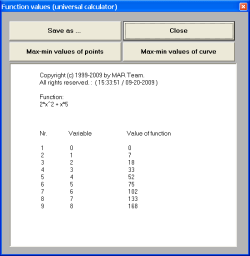 Data table
MasterAllRound also offers the option of listing the values of a function. After clicking on the "with variable" button, a pop-up window appears. All you have to do is:
declare the variable
enter its start and end value and the step width
MasterAllRound lists the values
You can save the list for later usage.
MAR Cal - Application examples and information
---
MAR Cal, MAR Fin and MAR Plus are free for individuals, schools and other educational institutions. The usage of any MAR-program for commercial purpose requires the preliminarily written consent of the MAR Team.